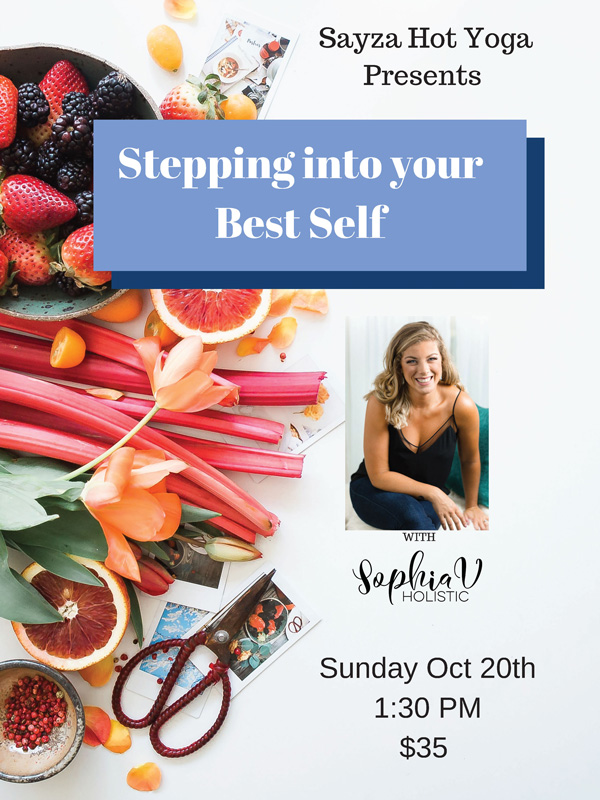 Stepping into your Best Self Workshop
Hello friends!
As some of you may have seen on my Facebook page, I'm excited to announce my upcoming seminar "Stepping Into Your Best Self" on Sunday, October 20, 2019!
With the event fast approaching, I'd like to share with you more insight on what this special seminar will be covering. Feeling happier and healthier in your body is much easier to attain than people often realize, simply because they aren't aware how crucial some basic steps are in body/mind maintenance. In this seminar I will be going over the following points in specific detail to help you better understand how to create your own life practices that will enable you to live your best life:
Drink more water
Practice cooking
Experiment with whole grains
Increase sweet vegetables
Experiment with protein
Eat fewer processed foods
Make a habit of nurturing your body
Have healthy relationships
Enjoy regular physical activity
Find work you love
Develop a spiritual practice
While many of these seem intuitive, anyone working hard to actualize their goals will immediately understand how easy it is to overlook these things when always on the go. Luckily, I have both the scientific background and the years of experience to help you get a better grip on how to understand and plan out your schedule to ensure all of these points are optimized for you.
Sometimes experimenting with new types of food or macronutrients can seem intimidating when you are inexperienced. You may worry about not having enough to make it through your day, or not be confident you are doing it correctly. I assure you, everything you need to understand in order to make simple yet significant changes in your life will be made clear at this event.
This event is a great opportunity for you to meet other like-minded people with similar goals as yourself, which also helps with support and encouragement, and makes it even easier for you to achieve your goals. I would love to see you there and would be delighted to help you create your best version of yourself.
Make sure to grab your ticket and I look forward to seeing you there!
https://steppingintoyourbestselfworkshop.eventbrite.ca
Sophia